Salt and Pepper is a legacy forest, naturally grown and not a monoculture plantation forest. It contains large diameter trees, complex forest canopies & understories, and legacy forest characteristics, including snag and large wood on the forest floor.
It is currently scheduled for timber auction on December 14th, 2023. It's not too late to save this beautiful forest!
Recreation and Impact on Small Businesses
The Salt and Pepper forest is in a recreation & vacation destination, with the bulk of it located along Highway 101 at Lake Sutherland. Logging it will create a scar on the landscape for a decade or more that will affect local tourism businesses like Wandering Joy Campground, Shadow Mountain RV and Magic Forest Tours. Lake Sutherland is a popular recreation and vacation destination.
This stretch of Highway 101 is the gateway to Olympic National Park and the beautiful Lake Crescent. It will create a lasting impression on tourists of how we care for our precious natural resources. The scar would destroy the fantastical feeling of entering the remote, rugged wilderness.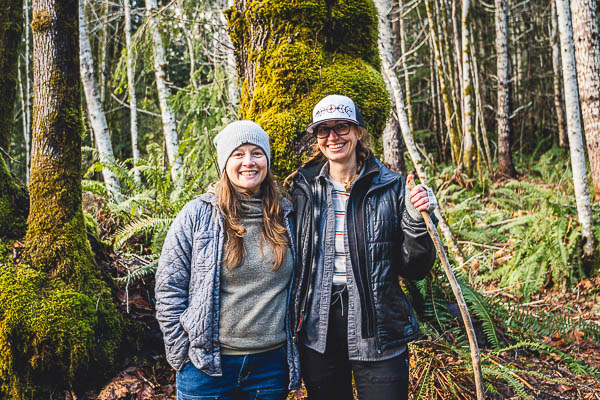 Wandering Joy Campground is a women owned, small business started in 2022. Their mission is providing a safe and inclusive outdoor space, while respecting and protecting the health and wellness of the land they are on.
Elwha River Watershed
Lake Sutherland, Indian Creek and the Elwha River
With the removal of the 2 dams on the Elwha River, there's a $324.7 million dollar effort to restore the Elwha watershed. This includes work to restore salmon access to Indian Creek and Lake Sutherland. The Salt and Pepper forest is part of the watershed that feeds Lake Sutherland from the north side, which flows into Indian Creek and then the Elwha River.
Legacy forests play a crucial role in protecting water quality. Trees in these forests act as natural filters, removing pollutants and contaminants from the water before it reaches streams, rivers, and lakes. They also help to prevent soil erosion and sedimentation, which can clog water sources and decrease their quality. Additionally, the root systems of trees in legacy forests help to regulate water flow and reduce the risk of flooding. Cutting down this forest would impact the quality of water sources in the area.
Wildlife and Biodiversity
The Salt and Pepper Forest provides a habitat and travel corridor for a diverse species of plants and animals adjacent to Olympic National Park. Logging it will displace or kill all of these.
We are in the midst of a global extinction crisis, due to habitat loss, climate change, disease, and other impacts. We must protect mature and old-growth forests, which are vital refuges for many at-risk species and vulnerable wildlife.
Climate Change
Conserving mature and old-growth forests is one of the most affordable and effective tools for fighting climate change. No human-made technology can match big trees for removing and storing climate pollution. If they are logged, most of that pollution is quickly released into the atmosphere and it takes many decades or centuries for younger trees to recapture it.
We have lost most of our mature and old-growth forests across the country due to past logging. This is a serious problem because healthy mature and old-growth forests provide drinking water to communities, protect fish and wildlife, and absorb and store vast amounts of climate pollution. To protect what we have left and recover what has been lost, it is critical that we protect both mature and old-growth forests from being cut down in the future.
What can we do?
Take Action!
1. Contact DNR
Make a public comment at the Next Board of Natural Resources Meeting – details here.
and call/email the Commissioner of Public Lands:
Hilary Franz
Phone: (360) 902-1000
Email: cpl@dnr.wa.gov
2. Visit the Center for Responsible Forestry's (CFR) website
Sign up for the CFR's newsletter and action alerts (bottom of page).
3. Spread the Word
Host a community event in this Elwha Legacy Forest
Host a presentation in the community.
Tell 5 friends/neighbors about the Salt and Pepper Timber Sale & pass on the actions info
4. Support the following Washington State Legislation
DNR Trust Land Transfer program:
5. Contact your Representatives
Use the sample language:
l oppose the State logging in the Elwha River watershed, in particular, the "Salt and Pepper" timber sale. It is a structurally complex forest with large diameter trees adjacent to Lake Sutherland, which is hoped to be a recovery area for salmon. These older forests store and remove carbon from the atmosphere and play a key role in fighting the climate crisis when they are intact. I have serious concerns about how logging will impact residents' drinking water, salmon habitat restoration efforts, and endangered species. The "Salt and Pepper" timber sale should be included in the DNR Carbon program or otherwise protected. Please cancel the "Salt and Pepper" timber sale while we work to find solutions.
Email the 3 Clallam County Commissioners and ask for a response!
Randy.Johnson@ClallamCountyWA.gov
Mark.Ozias@ClallamCountyWA.gov
Mike.French@ClallamCountyWA.gov
State legislative representatives:
Federal legislative representatives:
Resources
All images are ©Forest2Sea. Please contact us if you'd like to use any of these images to help save our legacy forests!